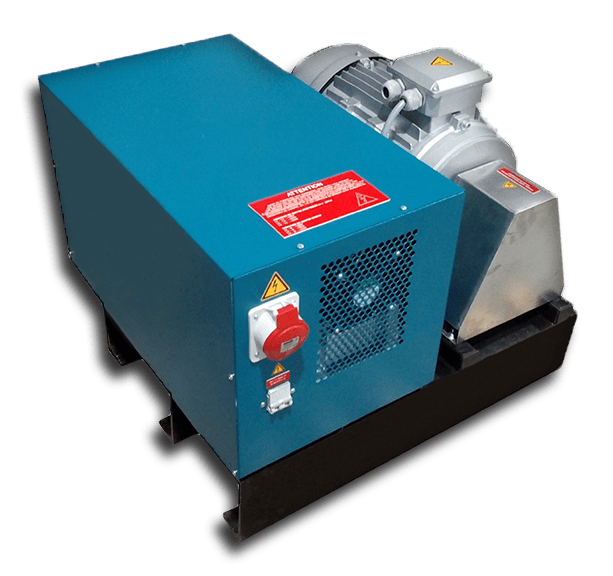 PhasERM TR 50
Converter 11.4kW
Simply power a motor, tool or three-phase pump from a single-phase source, (whether the mains or a generator) it generates up to 11.4 kW permanently. TRs are the essential complement to your building sites, whether in the field of construction, agriculture or mechanical engineering.
Made in France
Innovation and engineering carried out in France to obtain a reliable, robust and easy-to-install product with unparalleled performance
Booster function
Capable of handling 300% of its nominal capacity at start-up for 1 minute, PhasERM TRs can be sized with a factor of 1.0 in relation to their load.
Several devices on a single converter
PhasERM converters can supply several machines simultaneously, as long as the associated loads do not exceed the nominal power of the equipment.
Easy installation
Direct connection in single-phase socket or on the distribution panel, PhasERM converters are equipped with a three-phase Hypra type socket (3P+N+T) allowing most applications to be connected. Compact it will easily find its place in a corner of the workshop.
Maintenance-free and quiet
PhasERM converters equipped with high quality capacitors, do not require any particular maintenance, the motor mounted on a silentblock, is installed in such a way as to limit the noise level of the equipment as much as possible.
Dimensions :
600 x 850 x 870 mm
Weight :
250 kg
Inputs :
230V 50Hz ou 60Hz single-phase
(protection by circuit breaker 63A)
Outputs :
400V 50Hz three-phase 11kW permanents
(absorbed motor starting currents)
Design :
Steel box IP21 RAL 5021, handling by forklift truck, pallet truck
Standards :
Certification DEKRA, European standards